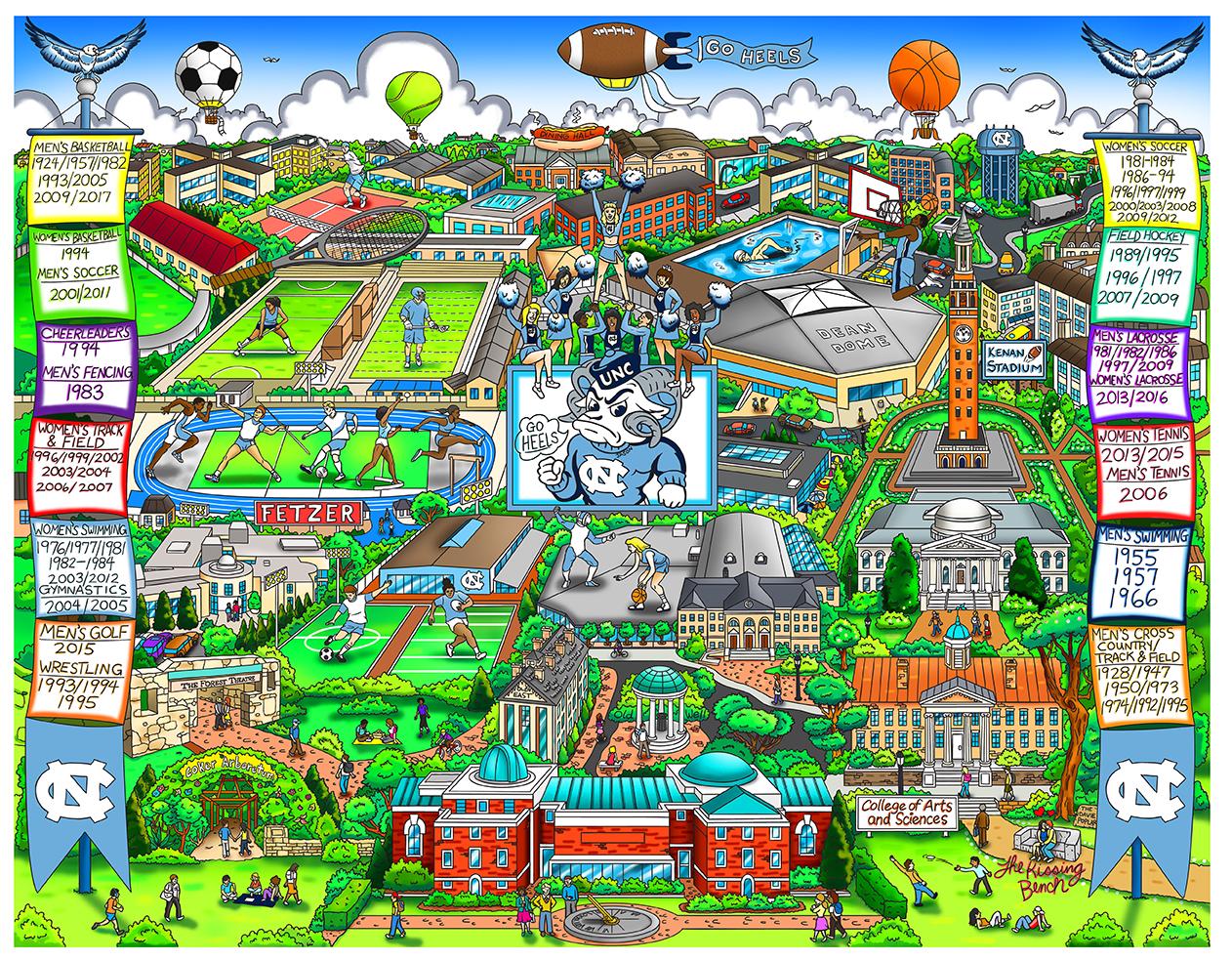 UNC's National Championship's - by Charles Fazzino
We are proud to offer for sale the first UNC-themed limited artwork by internationally renowned 3D artist Charle Fazzino. Famous for his 3D style and the artist for 18 Super Bowls, The Olympic Games, 16 MLB All-Star Games and more, Fazzino has celebrated the multitude of National Championships won by your beloved Tar Heels.
Limited Edition: 100 Framed, Three-Dimensional Deluxe Prints
Framing Options: Black or Silver

Custom personalizations available (inquire)

Pricing includes all of the above and shipping and shipping insurance.
Lloyd Scher '76: The Visionary
Lloyd Scher '76 attended UNC following two years in the Air Force. Carolina was the only university to which he ever applied.
Scher cherishes his time in Chapel Hill as a student for the friendships he made and the opportunities it led for him to succeed business and civic life.
It is out of a profound love and gratitude for the University and these many life long friendships that Scher commissioned "UNC's National Championships" by internationally renowned 3-D pop artist, Charles Fazzino.
Scher met Fazzino in New York at one of his 3-D shows in 2013. After viewing pieces he did for Notre Dame and Florida, he began pitching Fazzino to do a UNC piece. But the right inspiration did not arrive until a few years later on April 3, 2017 when the Men's Basketball won its seventh National Championship.
Inspired by this victory, Scher worked with Sr. Associate Athletic Director, Steve Kirshner and cataloged all 113 of Tar Heels National Championship titles since 1924. With this info in hand, Scher finally made a successful pitch to Fazzino to create "UNC's National Championships," a beautiful UNC-themed 3D pop art piece to commemorate the of UNC Athletics national titles.
To Scher this project has been a labor of love to honor our great University and our athletes. Says Scher, "I am proud of its 3-D design and its look and every Carolina Fan will want to own one but only 100 will be produced."
Scher's continued involvement with the University runs deep. He is a Lifetime Member of the UNC General Alumni Association.
Charles Fazzino: The Artist
Charles Fazzino is one of the most popular and highly-collected pop artists of all time. During his more-than-thirty years as a pop artist, he has inserted his unique, detailed, vibrant, and three-dimensional style of artwork into the veryfabric of popular culture.
Fazzino's artworks are exhibited in more than twenty countries and hundreds of fine pop art galleries. He has received many private and important commissions and has been selected as the official artist for festivals and and events all over the world.
Charles is often referred to as a pop culture historian because of the breadth of his work and the way it touches his collectors and captures the best parts of their contemporary lives. His legacy will mark him as part of the next generation of famous pop art artists as he follows the paths originally forged by pop art pioneers like Andy Warhol, Keith Haring, and Red Grooms.